This is the Wonky Little Houses quilt. I made this quilt using Carrie Bloomston's pattern from the October 2018 Quilty Box.
Normally, I take a lot of pictures when I'm making a quilt. I must have been pressed for time, because this is the first photo I have! So this post will be more like the quilting of Wonky Little Houses. As you can see, I basted with safety pins. This is how I prep quilts when I'm planning on quilting them on my Elna Quilter's Dream.
I began my quilting on this yellow door of the center house. I did simple straight vertical line quilting in matching thread.
I did horizontal straight line quilting on the houses exterior walls to simulate siding, and continued the horizontal straight lines onto the rooftops.
I had a little fun quilting off center concentric circles around the sun and did some echos of the bumpy green tree in the sky.
After quilting, I added some lace trim to the rooftops to give the houses a gingerbread look. Sew pretty!
Each door received a button door knob.
Be Creative ~ Sew Something Beautiful Today.
Jennifer Thomas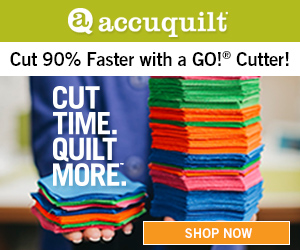 This is an affiliate link. Clicking on this link will not affect the purchase price.