The Winds of Autumn quilt is back home from Love of Quilting. I'm using it on my bed because it's so cuddly warm. I just love the soft antique look these fabrics give this quilt. It's wonderful for the cold rainy November weather we've been experiencing here.
I take a lot of photos while I'm working on a quilt. I thought I'd share a few of them in this post. It's interesting to see what goes into each project. I like to put the pieces of my blocks up on the design wall and snap photos. Sometimes this leads to new design ideas for future quilts.
These simple strips laid out together show some fun pattern and color play ideas.
In this photo you can see the blocks coming together into on-point rows. I use the on-point setting in a lot of my quilts.
Time to sew the borders. I cut out all the pieces for my quilts before I begin sewing. I sort them into zipper sandwich size baggies and label them with the color, size, and piece name or letter.
Here the Winds of Autumn quilt is coming off the quilting frame. This is when I check for any loose thread ends and weave them back into the quilt sandwich.
If you wish to sew your own Winds of Autumn quilt, the pattern is available in the October/November 2018 issue of Love of Quilting magazine. If you make one, please send me a photo. I would love to see it!
Be Creative ~ Sew Something Beautiful Today.
Jennifer Thomas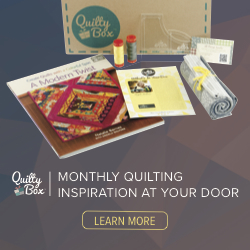 This is an affiliate advertisement. Clicking on this link and making a purchase may result in my receiving a commission.