Note: The contents of this subscription box were given to me by Quilty Box.
Did you have a nice Thanksgiving? I felt blessed to share Thanksgiving with my three boys. I am a little bit under the weather with a cold, but I still managed to prepare everything for my family. Now that they are older I had some help with the cleaning up, too. Here's a peek at the contents of the October 2018 Quilty Box (yes, I'm still a little bit behind!)
The Bundles of Inspiration magazine comes in every Quilty Box. This month features Carrie Bloomston. Read all about her in a short interview. Learn about her new book, and sew a cute Wonky Houses pattern, inspired by the Gees Bend quilters.
This month's fabric bundle is Wonder, by Carrie Bloomston, for Windham Fabrics.
I'll fan them out for a better look. I love these bright fun colors, whimsical designs, and words. Lots of words are scattered throughout the collection.
This blue vintage bicycle print is super cute! The Sewline fabric glue pen is part of this month's box. These are really handy for placing appliques and securing the edges of hexies.
My favorite part of Quilty Box is the new notions they include every month. This month includes the Bobbinator. It comes with 10 pre-wound bobbins. This cool tool turns your bobbins into a spool of thread you can use on your sewing machine. I can't wait to try it out. I must have 100 bobbins sitting around waiting to be used up.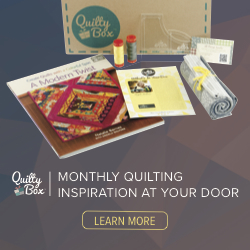 This is an affiliate advertisement. Clicking on this link and making a purchase may result in my receiving a commission.
Click on the above link to try Quilty Box for yourself, or to give as a gift. 5% of profits goes to support Quilts for Kids, so when you give the gift of Quilty Box you are helping kids, too. Awesome!

Be Creative ~ Sew Something Beautiful Today.

Jennifer Thomas