Disclaimer: The contents of this Quilty Box mini were given to me by Quilty Box.
Yes, it's almost Thanksgiving, but I'm still in the process of catching up after a few hot deadline projects, so here's the October 2018 Quilty Box Mini!
What's inside? All this gorgeous quilty goodness! Each month's quilting treasures are carefully wrapped in tissue paper. Such a nice touch.
This month's Bundles of Inspiration features designer Carrie Bloomston. Tucked inside is an interesting interview with her (she loves to munch on chocolate whilst designing fabric), info about her new book, and her Wonky Little Houses quilt pattern.
This month's pattern card is for Wonderful Runner. Whip a few of these up for quickie Christmas gifts!
The Wonder charm pack from Windham Fabrics. I love this colorful collection.
My favorite item in this month's mini is this Wonderfil thread. Look at this color! I can't wait to quilt this into one of my projects. Such yummy thread!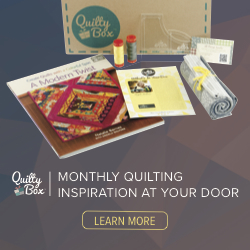 This is an affiliate link. Clicking on this ad and making a purchase may result in my receiving a commission.
If you want to try Quilty Box for yourself, simply click on the above advertisement to zoom on over to their site. They have a variety of plans available to suit everyone's quilty needs.

And did you know they also have an online shop? If you see something you just can't live without, but don't want to purchase the whole box you can shop for individual items at www.quiltybox.com/shop. So cool!

Be Creative ~ Sew Something Beautiful Today.

Jennifer Thomas

Click here to visit the Curlicue Creations shop.