What's inside the September 2019
Quilty Box
? Let's take a peek!
Every Quilty Box includes their exclusive Bundles of Inspiration mini magazine. Inside is an interview with this month's featured designer, Libs Elliott, four patterns, the Subscriber Spotlight, and more!
One of the first things I noticed when I opened this month's surprise box was these curvy templates. I adore curvy quilts! What are these templates for?
The Pocket Change Mini Quilt pattern! So cute. I can see a lot of possibilities with this pattern. You could get a huge variety of looks by changing up the color and value placement of the fabrics. Playtime!
This months fabric bundle is a hefty stack of fat quarters from Libs Elliot's Greatest Hits Vol. 1 collection for Andover Fabrics.
It's a rainbow of quilty goodness! Look at these colors and prints. Yummy.
Also included in this month's box is a new Hera marking tool. Have you ever used one? It allows you to mark your fabric by making an ink free crease line.
Sew Fine Thread Gloss in Orange Lavender. This is a cute little tin of thread conditioner for hand stitching. I'm excited to try it out. The Orange Lavender scent is surprisingly spicy. It makes me feel pampered.
This month's thread is a super hot pink by Aurifil. Yay! I didn't have anything close to this color in my thread collection. I love pinks. This will be fun to sew with.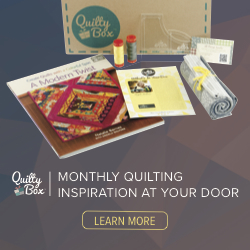 This is an affiliate link. Clicking this link will not affect the purchase price, however if you do make a purchase I may receive a commission.
Next month's featured designer is Edyta Sitar. I can't wait to receive that box! She is one of my favorite designers. If you would like to try Quilty Box, click on the above ad to visit their site. They have a variety of plans to fit every budget.

Be Creative ~ Sew Something Beautiful Today.

Jennifer Thomas

Click here to visit the Curlicue Creations shop.