I know I don't need any more projects, but.....my husband brought home a great big box of cross stitching fabric....I was surfing the blog-o-sphere....and I came across this fantastic stitch-a-long. It was just starting, and I couldn't resist. So here's my first block. Isn't it cute?
The Stitch-A-Long is by Little Miss Shabby. Click on the link, below, if you want to join in, too. The second block was just posted on Monday. I'll show mine when I've finished stitching.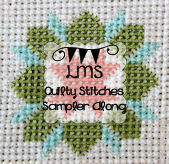 Until next time...please visit the
Curlicue Creations Shop
...and have a super day!
Get Creative!
Jennifer Schifano Thomas