I know I'm a little late on this one! It's January 1st, but I really want to show you what's in the December Quilty Box. It's my favorite box so far.
Here's why: Oh Kitty!!!! It's Felice Regina's Caturday fabric collection! If you're a regular reader of mine, you know how much I love my cats. I'm so excited to sew something with these bright and colorful fabrics.
Felice Regina could possibly be my new favorite fabric designer. Just look at her. She has purple hair ~ Fabulous!
She also designed this exclusive Quilty Box subscribers only cat pin. Oh kitty! I'm in love.


I'm not a big fan of tea, but this Plum Deluxe tea smells heavenly. I'm going to brew a cup and try it when the kids go back to school.
A blue Clover chaco liner is also one of this month's goodies. I love these marking tools and already own a pink one and a white one. They are my absolute favorite for marking fabric. Clean, easy to see lines that brush away with little effort.

Aurifil monofilament thread is something I've never tried before.

A single use of Soak for hand or machine washing.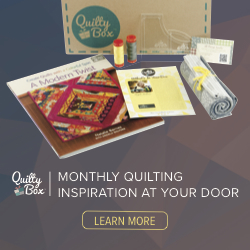 This is an affiliate advertisement.
Start out your New Year with a monthly subscription to Quilty Box. Each month's box includes new fabric collections, the Bundles of Inspiration magazine, useful notions, and more thrilling surprises. Just click on the above ad to get started. You'll be so glad you did.
Be Creative ~ Sew Something Beautiful Today!
Jennifer Thomas