What's inside the September 2020 Quilty Box? Take a peek with me!
Disclaimer: The contents of this subscription box were given to me by Quilty Box.
Oooh! Look at all these goodies! I just love receiving Quilty Box in my mailbox every month. It's so exciting and inspiring.
This month's box is curated by Leslie Tucker Jenison of Wishwell. This is her new fabric collection, Warehouse District.
These fabrics are amazing! They're really speaking to my heart. What do you think?
Here's a closer look at one of the fabrics. In the interview with Leslie, she says they were inspired by her travels to different cities and visiting the warehouse districts, hence the name.
The pattern for the Shattered quilt (shown here) is inside the Bundles of Inspiration magazine. I really like this quilt design. I have seven quilts to sew between now and the end of the year, but I want to make this one, too!
Also tucked inside this month's box, a new pair of Machingers! Yay! These are great for free motion quilting.
Check these out! Mini Magic Clips. It says you can sew right over them ~ say what??? I gotta try that!
And haha on me. I tore up my studio early this morning, looking for some white thread to repair a button hole. There was a nice spool of Wonderfil in white, right there, in the Quilty Box on my sewing desk the whole time. You can never have enough white thread. Thank you, Quilty Box.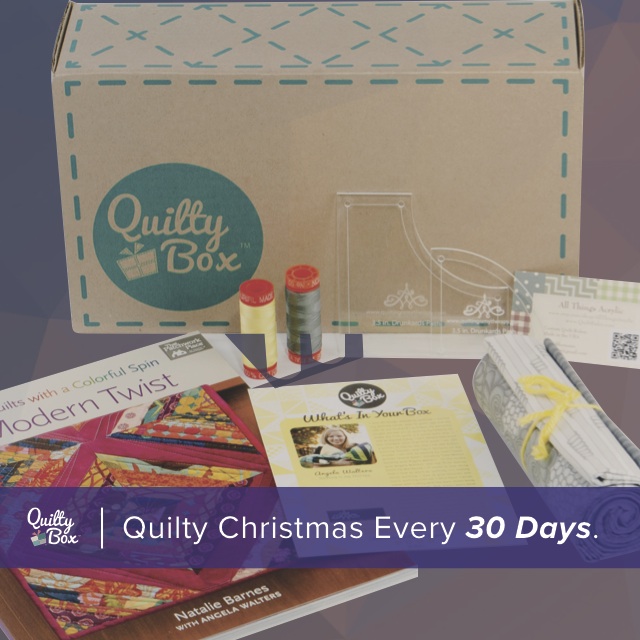 Don't you want to try Quilty Box for yourself? It's so nice to have fabric, notions, and inspiration arrive in your mailbox every month. And I'm super excited for October's Quilty Box. Next month's box features none other than my fellow Island Batik Ambassador, Jackie Kunkel! I can't wait to see what she's put together for October. It's sure to be colorful and fun. Click the above ad to visit the Quilty Box website right now.
*Note: Clicking this advertisement will not affect the purchase price. However, if you do make a purchase, I may receive a commission. Thank you.
Be creative ~ Sew something beautiful today.
Jennifer Thomas
Connect with me:
Subscribe to the Curlicue Creations Newsletter