Keep your paws off my Quilty Box!
What's inside the November 2018 Quilty Box? If Trail Mix has her way, we'll never know. This Quilty Box was provided to me at no cost by Quilty Box for promotional purposes. Thank you, Quilty Box!
Oh wow! Look at this month's gorgeous surprises!
This month's featured designer is Tula Pink. Read an in depth interview with her inside this month's Bundles of Inspiration magazine.
Tula Pink's Zuma fabric bundle is this month's fabric. I'm loving these gorgeous blues and greens.
Here's a better look at the eight fat quarters included in this fabric collection for FreeSpirit Fabrics.
We get to make this cute Clam Up bag this month. Soft and Stable, a sort of batting/interfacing for bags is also inside this month's box. These would make nice Christmas gifts.
A blue zipper for the bag, plus a zipper color chart. I just love looking at all the colors the zipper is available in. The Clam Up pattern, Soft and Stable, and Double-Slide Zipper are all by Annies.
Last but not least is this coordinating blue Aurifil thread. I've really enjoyed getting a new thread in my Quilty Box every month. It's fun to have so many different threads to play with.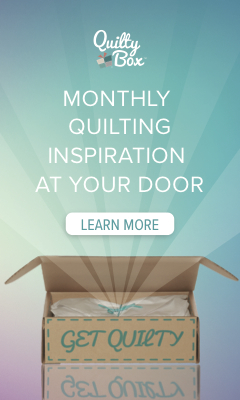 This is an affiliate link. Clicking on the above advertisement and making a purchase may result in my receiving a commission.
Next month's featured designer is Instagram star Giucy Giuce! To subscribe and get in on the fun, click the above advertisement to visit Quilty Box now.

Be Creative ~ Sew Something Beautiful Today!

Jennifer Thomas

Click here to visit the Curlicue Creations shop!