Disclaimer: The contents of this box were given to me by Quilty Box at no cost.
It's
Quilty Box
time! Did you get one? This month's Quilty Box featured designers are Flaurie and Finch.
When I opened my Quilty Box and unfolded the tissue paper, all these exciting goodies peeked out at me.
First, the fabrics. Quilty Box always has a new collection of top quality quilting fabrics tucked inside. This bundle is Blossom Batiks and Sweet Somethings from RJR fabrics.
This month's Bundles of Inspiration magazine includes an interview with Flaurie and Finch, their amazing Mariposa Sky pattern (butterflies!), tips for caring for your cutting mat, and more.
Can you say adorable? And useful? Look at this tiny Olfa cutting mat! I love it. This will be great for trimming as you sew paper piecing patterns. Plus, you can tuck it into a bag when you are travelling.
Another super useful item: A new Olfa rotary cutting blade. I've never seen this one before, so it may be a new item, the Olfa Endurance Blade. It claims to last twice as long. I'll have to test it out. I have two new projects waiting to be cut out this week. Time to roll!
Ooooh ~ Shiny! Wonderfil Spotlite thread. This is a 40 weight metallic thread with a rayon core in pink. I adore pink. This will add some shimmer and shine to a future project.
Here is a closer look at the fabric bundle. What a fabulous combination. Many of the fabrics have shiny silver accents. Some of the fabrics are soft pastel watercolors, Some of the fabrics are vibrant pink and blue. And they complement each other divinely.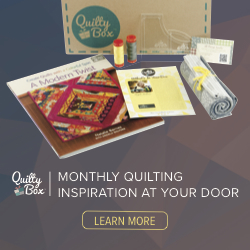 This is an affiliate link. Clicking on this ad and making a purchase may result in my receiving a commission.
Quilty Box is a monthly subscription box. Plans are available from $44 ~ $48 dollars a month. The retail value of each box's contents is always more than $60. It's a great value and so much fun! Be inspired monthly. Click the above ad to learn more about Quilty Box.

Be Creative ~ Sew Something Beautiful Today,

Jennifer Thomas

Click here to visit the Curlicue Creations shop.